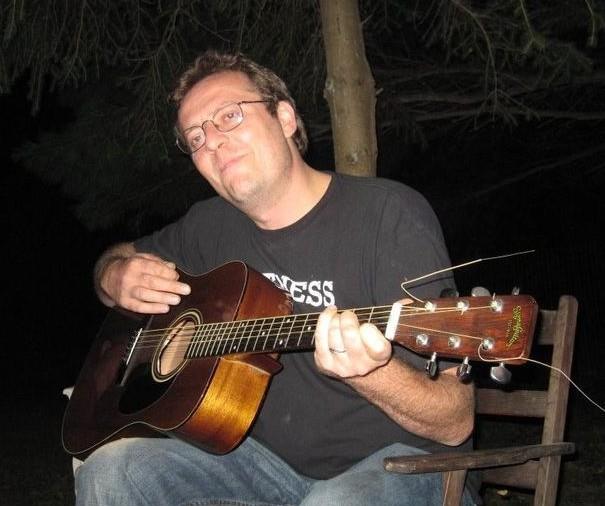 Our beloved Kenny
My brother & I started Kenny's Kitchen to honor the life & love of my incredible late husband, Kenny Fickey. He lived life with a generous, kind heart. He loved to cook for & take care of people. We hope to bring his light, love, peace & joy into your kitchen to serve as a beautiful reminder of the gift of each meal & every moment we have together. Our goal is to share the Kenny Love & improve the lives of our customers with simple, nutritious, delicious food.
Kenny's unique gifts--his kindness, faith, sincerity, intelligence, humor, happiness, generosity, talent & love--touched so many lives. We wanted to give everyone a space to describe Kenny in their own words to help share his legacy & love with our customers.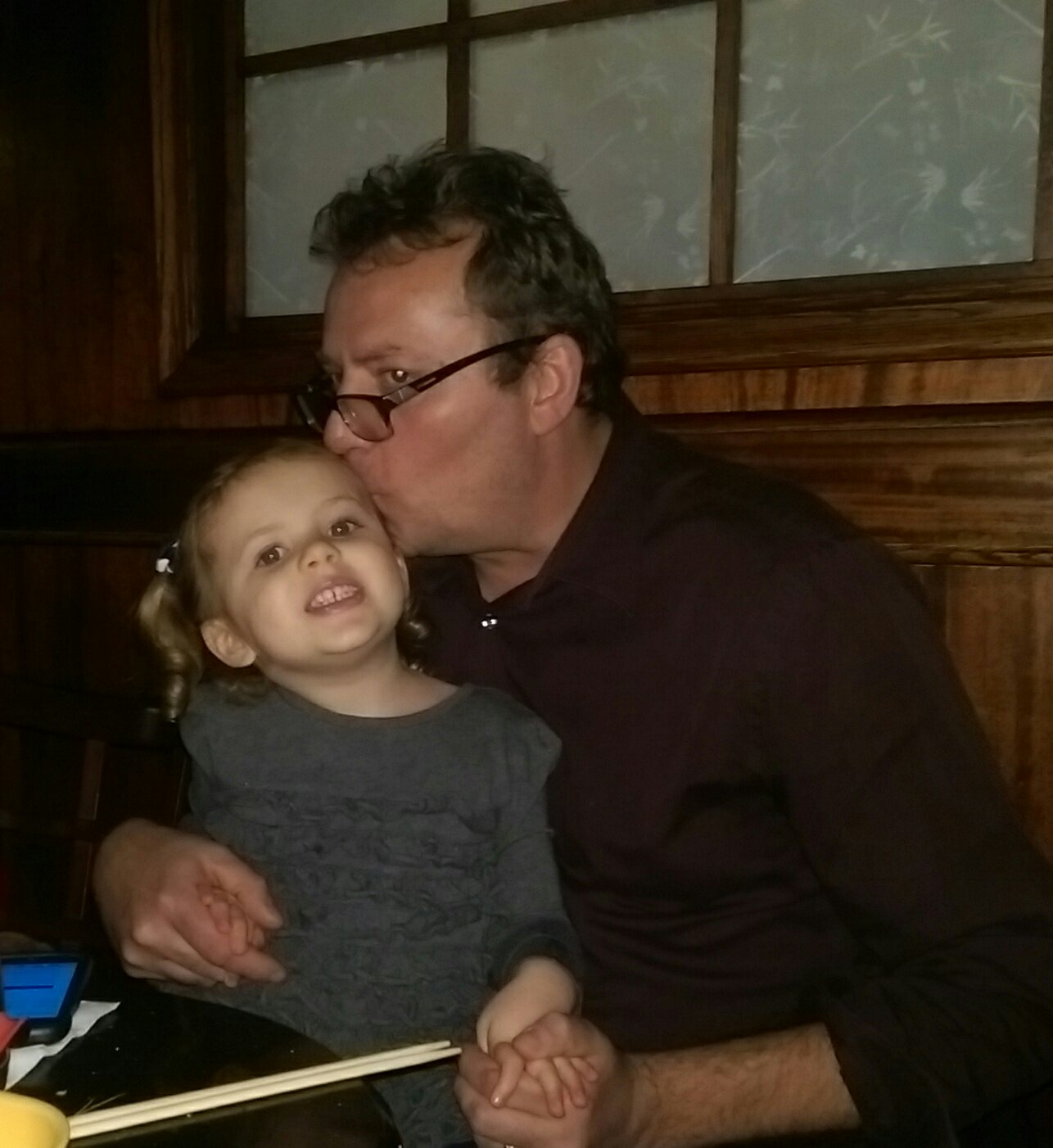 Headspicekateer & Daddy
"One of the things that I liked about Kenny is that he was kind loveing peaceful and very patient he ofen knew and said everything is going to be allwrite." Our daughter #headspicekateer
"Kenny was the life of the party, he was so caring of all people's feelings and made everyone from the most shy to the least shy feel like they were important to the event. There was never a party too big or too small for Kenny. He was a great father, husband, brother, cousin, nephew and friend. There was never a conversation in which he didn't have his 2 cents to put into, with his vast knowledge of so many things, his 2 cents were usually held much more value than a couple of pennies! From sports to space to food to family he added so much to everyone's lives that he touched." Jeremy
"Kenny was absolutely one of my favorite people... the nicest most considerate friend, the best dad and husband and a guy all of us strive to be everyday... He would help everyone almost to a fault, we had a lot in common and I miss him a lot....I think about him often and try to live up to his ideals about life and people." Steve
"Kenny had the biggest happiest smile in the world. Whatever you eat, put a great big smile on your face." Renee
"Absolutely one of my favorite people. I could call Ken to talk about anything. From a serious life issue, or an athlete that was so dumb to give away millions of dollars over something redic, and fantasy football galore. I still have his contact in my phone and often think about calling him, I truly miss the big guy more than I could imagine. The smartest and kindest man that's ever crossed my path." Jimmie
"Sweet and genuine." AnneMarie
"Kenny was my favorite part of the afternoon... every time he would stop by the office, he always had a fantastic story to tell. He was always so full of joy, he would throw his head back and laugh so hard. I don't think I ever saw him angry... even when he was it didn't seem worth it to him to let it steal his joyful nature!" Jolyn
"He had a great laugh, and I remember his voice. He loved to sing Praise songs at church...He took our places in the praise team when we went on vacation so I never saw him up front singing and playing his guitar, but everyone always said he did such a great job. He was asked to be an Elder at his church, and he accepted, because he was so willing to give of himself to God." Bonnie
"The Kenny Hug. Arms so long they would wrap around you twice. No matter how many months/years had passed since we had seen each other, Kenny would welcome me home to Ohio with a giant hug! Oh and don't get me started on his love for his 3 J's!! A love so pure, so proud, so unique." Heather
"Kenny to me is safety and comfort. I always felt so grateful and happy when I knew Ken would be at a family function. 'Oh Jenny & Kenny are coming!?! I'm there!' That was always how I felt. And it made me look forward to being there. Kenny made everything better. He could wrap you in a hug and you were enveloped! You were included. No matter I was an "outsider" to the family, he made me feel like I belonged. He had such an inclusive personality. He made everyone to feel his joy. And oh did he. He gave the best hugs and exuded so much love that couldn't help but feel and reciprocate the joy. It was a soulshine. The song Soulshine by the Allman Brothers to this day makes me think of Ken. I can only speak from my own heart and I am rambling. I've been trying for 2 years to put Kenny into words. There aren't enough of them. He was always there when you needed him. I remember calling him when I was at a pretty low point and scared and he didn't once make me feel like a burden or a babbling idiot. He just said, I'll be there for you. My best description is that Kenny was safety and comfort. Everything about his personality still shines in the very best parts of me and hopefully all he touched with his larger than life presence. His laughter continues to ring in my ears and his song sings in my heart. It's being passed down to my children. His peaceful loving spirit continues to live on." Ally
"For those that don't know me Josh and I have been childhood friends since I can remember. I met Ken shortly before meeting Jenny and Josh. Even before they became a family Ken put everyone before himself and then some. He was one of the few people who I could go to with problems whether it was personal or with work it didn't matter. I can gladly say he's one of the reasons I am the man I am today among others alike. Two years later I still wait for the day I see him walk through the door. He will be missed and till we meet again, cheers." Jared
"I remember Kenny's gentleness. I remember you 2 coming with Jane when she was still just a new babe to a picnic at Jimmie's house. You were out of earshot and he was so lovingly taking about you being a mom. Every time I saw him he exuded happiness and such a gentle nature." Emily
"Kenny had THE best fish chowder recipe of all time. Jenny I have to cook this with you. Ken never had a set formula, it always depends on what's in the pot. Being spot on is the definition of Ken." Seth
"Kenny had a way to make you feel you were special. Even if you hadn't seen him for years...he was genuinely excited to see you. That is a gift." Kristen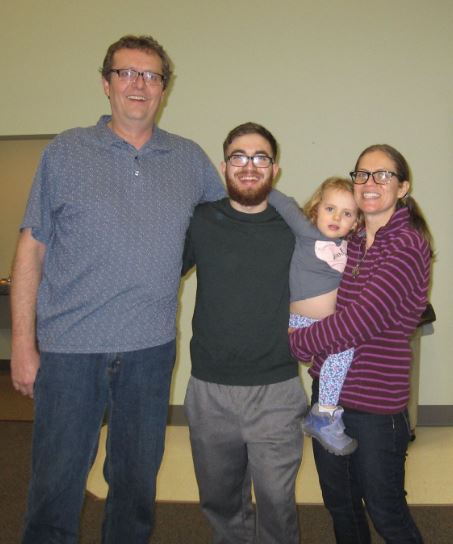 Our last family photo together in January 2016 at our Whole30 potluck
"O
<"3"